Nelson Mandela: A Man of Words, Deeds, and Service
by Ron Kaufman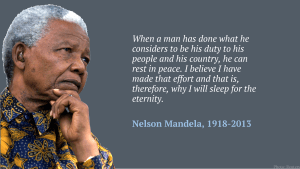 Nelson Mandela is no longer living, but his words and deeds will live on for generations. These five quotes capture Mandela's unrelenting commitment to service – to others, to society, to history and the future, and to life.
"What counts in life is not the mere fact that we have lived. It is what difference we have made to the lives of others that will determine the significance of the life we lead." – Nelson Mandela
Your significance will be felt not only in the final assessment of your life, but in the experience of living your life each day.
"For to be free is not merely to cast off one's chains, but to live in a way that respects and enhances the freedom of others." – Nelson Mandela
We can all do more to reach out, take care, and serve the well-being of others. No difficulty, problem or breakdown need stop you from choosing and living a life of service.
"The greatest glory in living lies not in never falling, but in rising every time we fall." – Nelson Mandela
Service recovery is the commitment to bounce back when things go wrong, learn lessons, improve, and strive to serve again. Serving others is rarely assured of total success. Lives evolve, needs change, expectations rise, and from time to time we fail. This is in the nature of service, and in the nature of life. Don't stop, don't give up, keep on learning, keep on serving.
"It is better to lead from behind and to put others in front, especially when you celebrate victory when nice things occur. You take the front line when there is danger. Then people will appreciate your leadership." – Nelson Mandela
One of The Seven Rules of Service Leadership is "Enable and Empower Your Team". Empowerment gives others the opportunity to take action, make promises, make decisions, and make mistakes. Enablement provides the support, education, coaching and mentoring others need to succeed, and the encouragement required when they fail. A great service leader steps in when the going is rough, and steps aside when the team is winning.
"Education is the most powerful weapon which you can use to change the world."
Training is teaching someone what to do. Education is teaching someone how to think, so they can decide what to do. We can create the world tomorrow by choosing wisely what we teach to our children today. We choose teaching service.